Virtuous out of need. The Huawei MatePad 11 is a very capable mid-range tablet that supports pen input. Furthermore, the slate can be paired with a keyboard. The MatePad 11 comes with Harmony OS and without Google Services. In day-to-day use, this proved to be less limiting than we expected.
The MatePad 11 is a very versatile tablet from Huawei, which offers a very good level of performance and supports pen input. Moreover, the Huawei slate can be paired with a keyboard for office work. It can also be used for media consumption because it can play back DRM-protected content. A quad-microphone array is supposed to enable "crystal clear communication".
The MatePad 11 is powered by last year's flagship SoC from Qualcomm. The 10.95-inch display supports the 120-Hz refresh rate. The 64 GB version costs 399 Euros (~$470) while the 128 GB variant sells for 499 Euros (~$590). In addition, the Huawei slate supports Wi-Fi 6 and microSD cards.
Case – The housing of the MatePad 11 is made of plastic
The midframe and the back of the Huawei MatePad 11 are made of plastic, which is quite susceptible to fingerprints. The plastic is stylised to look like metal though. The screen is protected by some type of glass. Even though the rear camera protrudes 1.8 mm from the device, the MatePad 11 does not wobble when it rests on an even surface.
The slate is well-built. There are no chinks or jagged edges. Applying a lot of pressure to the screen does not cause any ripple effects. The Huawei tablet is neither water- nor dustproof.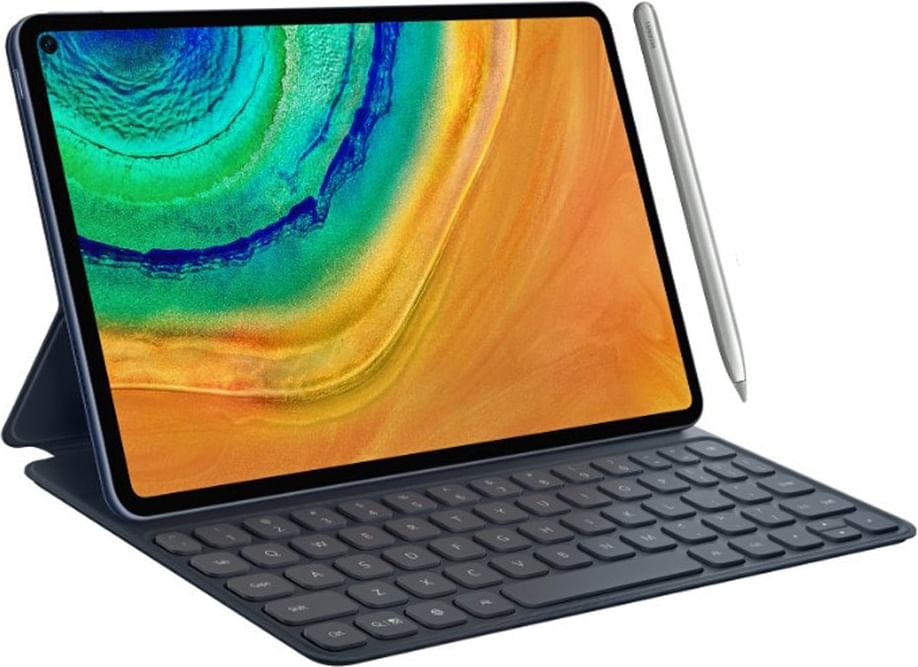 The MatePad 11 comes in the following colour schemes: Matte Grey (the only colour scheme available in Germany), Isle Blue and Olive Green.
The Huawei MatePad 11 comes with a fast USB 3.2 port, which can achieve transfer speeds of up to 5 Gb/s. OTG functionality is supported. This means that many various peripheral devices can be connected to the tablet.
The display can be operated with the Huawei M-Pencil 2, which comes with the device in Germany. Currently, there is no LTE version.